Small-Firm Service
At our firm, you receive one-on-one attention every step of the way.
Big-Firm Results
We know how to help people seek favorable outcomes and find a path forward.
WORKERS' COMPENSATION ATTORNEY IN ABINGTON, PENNSYLVANIA
Jenifer Dana Kaufman
---
Attorney at Law
Jenifer has always understood the value of building relationships. After earning her J.D. from the University of Pittsburgh, she practiced in a variety of legal areas. She then decided to focus exclusively on helping Pennsylvania workers seek fair compensation for their injuries. She continues to form strong bonds with each and every client during some of the most difficult times in their lives.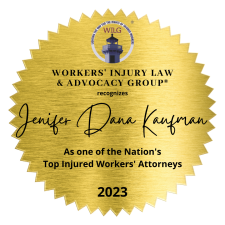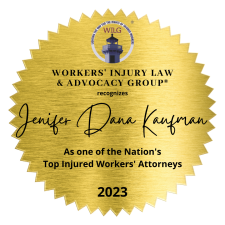 THE KAUFMAN DIFFERENCE
Discover What Sets Our Firm Apart
COMPASSIONATE
We truly care about our clients, even long after their cases are complete. We build real, lasting relationships with the workers we represent.
EXPERIENCED
For more than two decades, we've focused solely on workers' compensation. It's how we give back to our Pennsylvania community.
ACCESSIBLE
You'll have direct access to your attorney, not a paralegal or answering service. Jenifer Kaufman is always responsive to her clients.
In The News
---
Since 1999, Jenifer has developed a reputation as a leader in worker's compensation law, especially in cases related to medical marijuana. Jenifer strives to help workers in Abington and the rest of our Pennsylvania community understand their rights and seek the benefits they deserve. Click here to read the full article.

Jenifer Dana Kaufman discusses workers' comp cases involving medical marijuana
-The Legal Intelligencer
Hear From Our Clients
Jenifer Dana Kaufman has provided me with not only professional and knowledgeable representation, but also the personal and caring service lost in most of the legal community/profession today.
From the moment I consulted with Jenifer, I could sense there was something special about her. I never felt like I was just another case with Jenifer. I feel like my care and wellbeing are important to her.
I consulted with Jenifer, not knowing where to turn and so glad I did. She guided me through what had to be done. With her always answering questions in a timely manner, it's always good to know she's there.
First attorney I met that truly fights for her clients without a run around or fake promises. Best decision I made to have her take over my case.
I just wanted to take the time to say thank you for everything. I received my check. I was satisfied with the results you delivered. Thank you.
Thank you for everything that you did to help me with my case. Your knowledge and your patience with me was very much appreciated. I am truly grateful from the bottom of my heart.
INJURED ON THE JOB? LET'S PURSUE FAIR COMPENSATION.
Navigating the workers' compensation system can feel like working your way through a maze. Dealing with insurance companies can be even worse. We understand—and we're here to help.
Whether you've suffered hearing loss as a result of noise exposure, experienced aggravation of pre-existing conditions, or sustained psychological and physical injuries, we'll stand by your side every step of the way. At Kaufman Workers' Compensation Law, we'll guide you through this process.
SEEK MEDICAL ATTENTION
Nothing is more important than your health. Seek necessary medical care right away so you can begin healing and moving forward. You also need to make sure to let your doctor know that your injury occurred at work.
Your doctor's notes should indicate where and when the accident happened. This will be beneficial to your workers' compensation claim later on.
REPORT YOUR INJURY
Make sure you report your injury as soon as possible. Include the date of the injury, description of the incident, and any witness statements. Don't give your employer's attorneys the chance to prove that your injury wasn't caused on company property or during your shift.
TALK TO AN ATTORNEY
Reach out to a professional you can trust. A workers' compensation lawyer can help you at every stage as you deal with employers, insurance companies, healthcare providers, and more.
No matter how, where, or why you were injured on the clock, you need a compassionate advocate on your side. Set up a free consultation with our attorney in Abington today. We serve clients in Willow Grove, Warminster, Jenkintown, Cheltenham, Horsham-Hatboro, and the rest of PA. If you aren't able to make it to our office, we'll come to you.