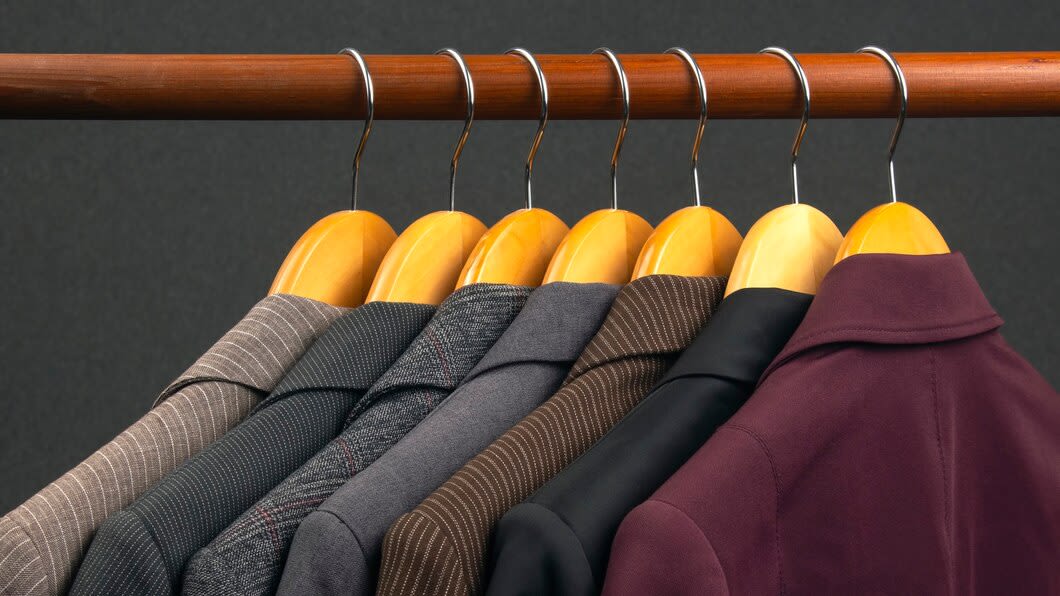 A Requiem for My Twenty-Eight Suits: A Lawyers Lament
---
I didn't realize it at the time, but almost half my closet turned into a museum exhibit overnight- you could call it "Courtroom Suits from the Turn of the Century," or "Suits of the Millenium 1997-2019: A Retrospective." I spent 25 years building my suit wardrobe, carefully adding, deleting and rotating them to avoid the appearance of wearing the same ones to court and depositions every day.
It was March 2020, and the powers that be announced that, due to COVID, everything was closing down for two weeks to "flatten the curve" starting March 13, 2020. Workers' comp courts quickly switched to a virtual, Skype format. Unlike many legal practices, workers comp never stopped holding hearings, they just moved to people's bedrooms and kitchens. On March 27, 2020, I did my first hearing by phone. By May 2020, video hearings were the new normal.
I held on to all of my suits after COVID switched us to virtual hearings, in the hope and expectation that courts would eventually reopen and my work life would revert back to "normal." As the months passed, and my suits collected dust, my hopes dimmed. My colleagues and those in charge overwhelmingly found virtual hearings preferable to live ones.
Today, in 2023, the era of live workers' compensation hearings has officially ended (with few exceptions), and I am apparently one of the few sad to see this glorious era go. One of the reasons I chose to become a comp attorney was the daily hearings and events the practice offered. In my 20s, I didn't know much, but knew that I did not want to sit at a desk all day, every day, and that workers comp offered the chance to go to court, be social and be part of a friendly and welcoming group of lawyers, judges, doctors and court staff. I felt I was part of a community.
The permanent switch to virtual has made my cherished suit wardrobe obsolete. Nearly all of my hearings and doctors' depositions are done via Teams or the phone. I schedule live depositions of my clients for old times sake, though opposing counsel rarely choose to attend live.
For the past three years, I have been able to rotate several blazers in my office over and over again for my court "appearances." I can wear jeans in the winter and shorts in the summer, so long as I don't stand up. I even bought an office coat rack for my blazers so I can keep things mixed up. One of the blazers in my rotation is so old, there are holes in the lining from cutting out the shoulder pads (RIP shoulder pads). I donated the matching skirt two sizes ago.
Given that I can count on my hands the number of live, in the flesh hearings I have had since March 2020, I am left wondering what to do with all my suits. Yes, I know suits were already on the way out before COVID struck. I added some sweater dresses to the fold in the 2010s and knew which Judges I could get away with appearing before wearing a sleeveless dress in summer. Which used to be an unforgivable sin- you can get away with most anything if you wear a blazer over it, I was taught by my mentor.
I used to love wearing suits. Especially skirt suits. I ditched stockings in the summer well before I ever bought an "old lady" pantsuit. Now, all my suits are essentially passe. You may not feel the same attachment to your suits, but I know plenty of attorneys who have built shoe and tie collections they love but no longer need in our causal, virtual world.
In 1997, I started out with the basic three suits- black, navy and gray and grew my collection from there. I've done the gold buttons thing, long skirts, the too short skirts of my 20s, the velvet collars and buttons, pinstripes, houndstooth, plaid, the long blazers to the knees, silk suits (wrinkles as bad as linen), thick wool suits, and have worn every color suit under the sun- even yellow, rust, green and pink. Then there's my never worn purple silky dream suit that only came a size too small but was too beautiful to pass up (I could still lose the weight I tell myself over 15 years and a pregnancy later). It buttons up the front and radiates class.
I still remember the suits I wore for different events- the one I wore to oral argument before the Commonwealth Court, that great teal one I wore for a headshot, the beloved gray Nehru suit I wore to a holiday party, My red power suit. There is something about being able to pull off a red suit. Not every woman can wear it and radiate energy. But for me, it's my power color.
I could go on. Some of my favorites exist now in memory only- my fave being that aforementioned dark grey button-up Nehru suit that was a beautiful and durable fabric tailored in all the right places- if I wore that with my gray suede Mary Janes, I was guaranteed a compliment and felt unstoppable. That suit eventually frayed beyond repair as did a pink Anne Klein pantsuit. I loved a blue check suit with gold sailor buttons from Casual Corner that was popular in the late 90s. I am sure my ever-expanding butt is what led to me and that suit parting ways.
I miss checking out other people's suits in court too. I have a whole collection of pictures, a surreptitiously taken series of photos entitled "what not to wear to court." Yes, this includes the furry, the frilly and slutty, but men are not excluded- featured are the sockless, the bold socks enthusiast, the light-up-tie, the wrinkled, the mismatched. Some are just etched in my memory like the electric blue suit on a white guy.
I always respected the handful of attorneys who were comfortable enough to wear seersucker in the summer. I appreciate an occasional nice bow tie and a three- piece suit as well as the confidence it takes to wear these.
Some might say it doesn't matter if court is live or if suits are worn. I disagree. I grew up watching and loving LA Law with Grace Van Owen wearing suits with shoulder pads you could land planes on. I wanted to be like her with the suit identifying me as a lawyer, as part of a members-only community. But alas, lawyers are no longer suited. We are no longer a profession that demands a certain style of attire. I see Judges in t-shirts, men without coats and ties. And with few exceptions, the Judges do not care that the lawyers dress almost as casually as the clients. Yet something is lost, especially for the younger attorneys. As a baby-faced young attorney, the suit defined me as an attorney, not as a paralegal or worse, court reporter (ask any woman attorney, she'll explain). My suit said I am a lawyer, and have a right to be here, even if I look way too young to be one. Suits helped me build confidence and self-esteem.
I've often considered just wearing my suits to the office and making myself a relic of a past time. Yet every morning, I look at my suits in my closet, and don't want to wear them, unless I am scheduled for live court. It's just not the same wearing a suit to the office, and wearing one will not bring the past back. Truth be told, I just want to be neat and comfortable.
Which begs the question, why can't I bring myself to just give my suits away? Why am I so conflicted? And am I the only one?
Jenifer Dana Kaufman, Esquire
June 2023